Frustration Mounting Over Local COVID Vaccine Rollout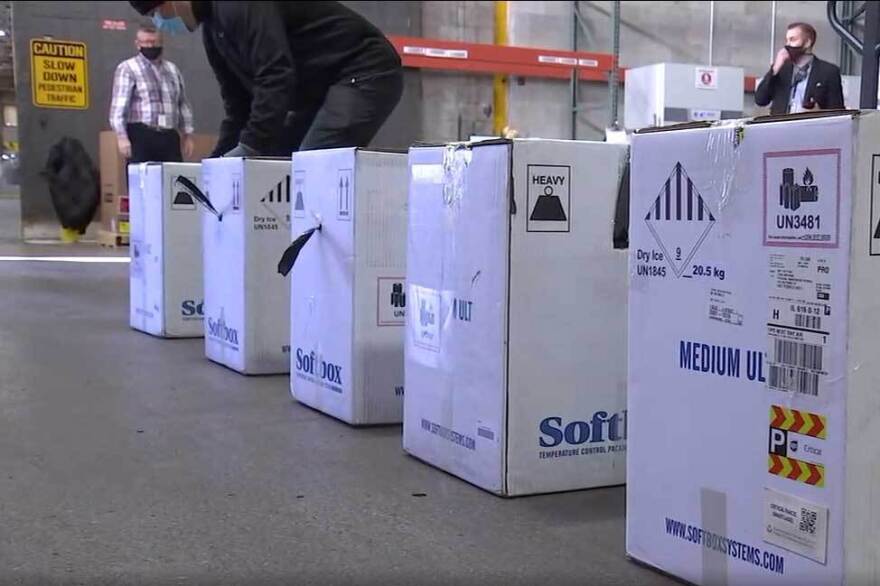 Update: The Sangamon County Department of Public Health on Monday announced it will prioritize COVID-19 vaccine doses for seniors, starting with those 85 and older. Read more here.
Asima Rahman has a new routine since she's been back teaching in her third grade classroom at Ridgely Elementary in Springfield.
She checks the Sangamon County Department of Public Health and Walgreens websites before work in the morning, at lunchtime and after school, searching for an open COVID-19 vaccine appointment.
"Three times a day, at the very least," Rahman said. "But then there's times in the evenings when I'll get on the websites and try to figure out whether or not there's possibly a slot that's opened."
Rahman, who has been trying to get an appointment for about three weeks, thinks the first-come, first-served approach to this phase of the vaccine rollout is unfair, especially to teachers who have no choice but to teach in person and are left to find vaccination appointments themselves.
"There should definitely be another way," Rahman said. "Everyone just needs to get on the same page to figure out how to effectively provide the vaccine to all the people in group 1B."
Sangamon County moved to the second priority group for COVID-19 vaccines last week, which includes teachers and other essential workers like first responders and grocery workers, in addition to seniors over 65. The rest of Illinois starts this "Phase 1B" on Monday.
Sangamon County's health department estimates that nearly 49,000 of its residents qualify in this new phase of the vaccine rollout. But many have run into the same hurdles when trying to schedule an appointment.
On top of a limited supply, several providers — including the health department, hospitals and commercial pharmacies — offer or plan to offer the shot, but there is no central place to get information.
The Illinois Department of Public Health announced on Friday it plans to publish a COVID vaccine website in the coming days, where appointment information would be available.
The rollout is seeing similar challenges nationwide, with a lack of federal vaccine supply and uncertainty about if and when more doses will be available to states and big cities.
"We're being as honest as we can with everybody and just being upfront," said Sangamon County Department of Public Health Director Gail O'Neill. "And we know it's frustrating."
O'Neill said SCDPH appointments are booked until the end of the month, and the department can't give a timeline of when more will be available because it depends on vaccine supply coming through the state and federal governments.
"We could ramp up something new if we knew the vaccine was coming in a large amount," she said. "We could ramp up in a day or two at the most."
The department is working with the five big healthcare organizations in the area — Memorial Medical Center, HSHS St. John's, SIU Medicine and Springfield Clinic. O'Neill said SCDPH wants to set up larger vaccination clinics that could give 1,500 shots a day, instead of the 300 now being administered at the health department.
Disparate Information Causing Confusion
For Betty Meissen, a 71-year-old Springfield resident who has been trying for more than a week to get an appointment, the biggest frustration has been a lack of clarity on if, when and how she can sign up to get the COVID shot.
While Meissen scoured news outlets and the health department website for updates, her husband got a text from HSHS St. John's — where his doctor is — saying he could get one of their doses.
"And we're excited beyond excited," Meissen said.
St. John's offered vaccine doses to a small number of patients over 65. In a news release, the hospital didn't give an exact number. The hospital also said it isn't offering appointments to people who aren't already served by its health system, like Meissen.
A St. John's executive told the State Journal-Register the hospital had offered doses left over from its distribution for its employees but has since run out.
Eager to have both parents vaccinated, Meissen said her son made her an appointment in Champaign County, which Meissen — a self-described rule follower — struggled with.
"I'm already yelling because I'm not receiving information in a timely manner. I can't get on a waiting list. I'm not going to take somebody else's spot," Meissen said. "It's not right."
But in the end it didn't matter. On the day of her appointment, Champaign County's health department canceled on her because she doesn't live there.
Unable to get an appointment through her doctor or in another county where there are shots available, Meissen said she'll keep trying Sangamon County's vaccine webpage. But she wishes the county would offer a wait list or at least one place to get all the information about when and how to get a vaccination.
O'Neill said the health department doesn't have the capacity to build and operate a wait list.
As for clarity on vaccine availability, the health department doesn't seem to have all the information either. For example, O'Neill said they weren't notified when Walgreens began offering COVID vaccine appointments locally earlier this month.
She says the pharmacy chain gets doses directly from the federal government, and doesn't have reporting requirements to her department. Walgreens did not respond to two requests for comment from NPR Illinois.
District 186 Teachers Searching For Vaccines
While Springfield District 186 works on a mass vaccination program for its teachers and staff, the district last week told teachers to try Walgreens instead.
In an email obtained by NPR Illinois, Superintendent Jennifer Gill said the district is advocating to get a vaccination clinic for educators, but encouraged teachers to try to get appointments elsewhere in the meantime.
Rahman, the third grade teacher, and Steven Bland, a teacher's aide in a kindergarten classroom in Springfield, questioned why teachers were sent back to the classrooms before vaccinations were widely available to them.
The school board voted three weeks ago to bring students back in person, citing concerns about lagging attendance rates and students falling behind with remote learning.
"I would do just about anything to get (a vaccination clinic) for our teachers and staff because I know they're anxious to get that vaccine," Gill told the school board last week. "But I know there's a lot of logistics."
Bland, who is teaching in person four days a week, said he appreciated the superintendent getting information about vaccine appointments to the staff quickly. But he said the system creates a "mad dash" for slots that's difficult to navigate especially for people who aren't as tech savvy and teachers who are trying to balance teaching in-person and online.
"It's just another added stress that a lot of people are dealing with when they're already in a situation that's pretty stressful," Bland said.
Bland said he was able to schedule an appointment through Walgreens. But he had to cancel it days later. He started feeling sick and had to be tested for COVID-19. Now he's at home waiting for the results.
If it's negative, he'll start refreshing Sangamon County's vaccine website again, and hoping for Walgreens to open more appointments.
"I don't really know what else the next step is," Bland said.
Mary Hansen is a reporter for NPR Illinois/WUIS. You can contact her at mhans6@uis.edu or on Twitter @maryfhansen.