00000179-2419-d250-a579-e41d38650002Issues of food, fuel, and field affecting Illinois.
Farmers Hope For River System Improvements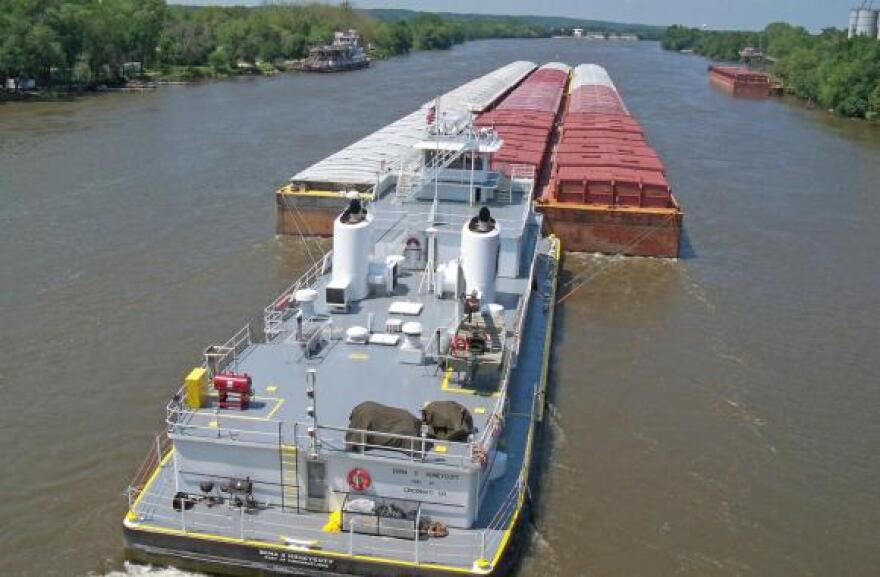 Farmers and ag groups in the Midwest say the U.S. river system needs an upgrade, and they're hopeful it will come with proposed improvements in legislation recently passed by Congress.
The nation's rivers are essential for moving agricultural products to market.
"It's our third coast, if you will," said Jim Tarmann, field services director with the Illinois Corn Growers Association. "Over 60 percent of our grain exports move via the Illinois and Mississippi Rivers. That's how things get to our world markets."
Those exports are being slowed by an outdated river infrastructure system. Tarmann said the system of river locks was largely built in the 1930s and designed to last 50 years. Most locks were rehabbed to add another 25 years of life, he said, but now they're past that point.
The industry considers those locks too small because they were built to handle 600-foot barges. Today's vessels can push 1,200-foot barges, which must be broken down to fit through the smaller locks, costing time and money. Corn growers say current inefficiencies cost them one to two cents for every bushel they ship. That adds up: the Illinois Corn Marketing Board estimates more than 650 million bushels of corn from Illinois moves on the river system each year, and there's plenty more grown in other states.
Upgrades to the lock and dam system could relieve the costly bottleneck.
"In essence, you'll have an existing 600-foot lock for pleasure craft and a back-up lock, and then a new 1,200-foot lock there, which can accommodate modern size tows," said Tarmann.
Tarmann and others in the industry said passage of the Water Resources Reform and Development Act (WRRDA) should help. Both the U.S. House and Senate approved the measure in May and it's now awaiting President Obama's signature.
The WRRDA authorizes upgrades to locks and dams, and improvements to ports, though Congress must still appropriate money for the projects. Under the WRRDA, the federal government would cover half the cost of river construction while the rest of the money would come from a tax on the diesel fuel used by barges – a tax the industry largely supports.
"All 300 companies that move product on the river support that tax increase," said Rod Weinzierl, executive director of the Illinois Corn Marketing Board and the Illinois Corn Growers Association. "And they all recognize that as a nation, as an industry, we have to invest more in infrastructure if we want to have an efficient system." The tax was left out of the WRRDA, but the industry believes Congress will soon approve it.
The proposed lengthening of river locks does not appear to have an environmental downside, according to Doug Blodgett, director of River Conservation for the Illinois Chapter of the Nature Conservancy. He said it won't add traffic to waterways because everything that can be moved on the river is already being transported that way.
He also said the projects could improve safety.
"When they're breaking those barges apart and putting them back together, there's the potential for accidents," Blodgett said. "There are dangers associated with those people that are working out there.
(Additionally), if a barge gets loose we're likely to have spills."
Backers say the inland river transportation system provides competition to the rail and trucking industries, helping keep prices down. River upgrades will cost hundreds of millions of dollars and it could take decades to complete the work, but the industry points out that the river system is heavily used.
"We run 24 hours a day. We never stop," said Captain Luke Moore of the Crimson Glory.
The vessel pushes 15 loaded barges from Peoria, Ill., to St. Louis, Mo., and from St. Paul, Minn., to St. Louis. It also pushes a mix of up to 16 loaded and empty barges from St. Louis to St. Paul.
Each loaded barge carries 1,400 to 2,200 tons of cargo, the equivalent of 16 railcars or 72 truck tractor trailers.