The Education Desk is our education blog focusing on key areas of news coverage important to the state and its improvement. Evidence of public policy performance and impact will be reported and analyzed. We encourage you to engage in commenting and discussing the coverage of education from pre-natal to Higher Ed.Dusty Rhodes curates this blog that will provide follow-up to full-length stories, links to other reports of interest, statistics, and conversations with you about the issues and stories.About - Additional Education Coverage00000179-2419-d250-a579-e41d385d0000
New ISBE Members Revise Budget Request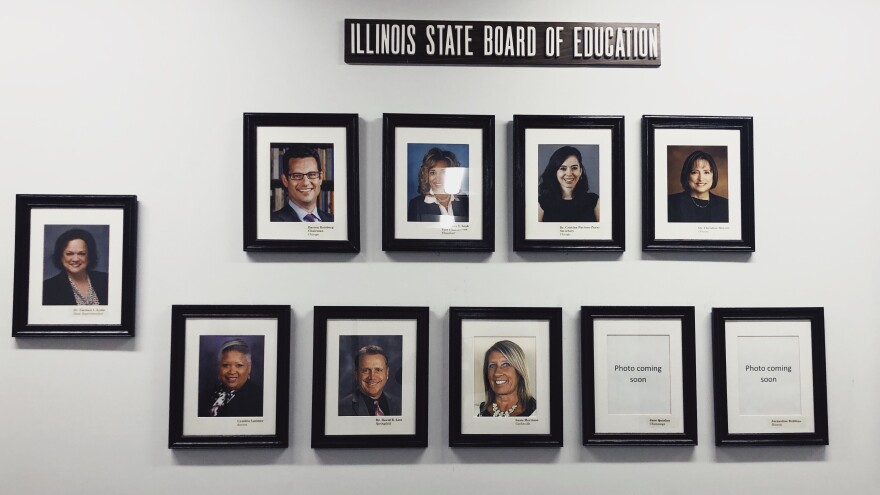 A few months ago, the Illinois State Board of Education voted to ask lawmakers for $15.6 billion to fund public schools. Now, a newly appointed board wants to change that request, to ask for just under $9 billion.
These board members were appointed by Gov. J.B. Pritzker, so it's no surprise that the $8.9 billion request they're proposing aligns almost perfectly with Pritzker's budget.
At a hearing today, State Rep. Rita Mayfield (D-Waukegan), questioned the board's new math.
"I know the governor has his budget," Mayfield said, "but as an agency, you have a responsibility for the children of Illinois. So you don't have to necessarily agree with him, but you do have to do what's best for the children. And I did not see that in your budget."
Mayfield said she was concerned with the board's proposed decrease in funding for districts in East St. Louis and North Chicago. Newly-appointed board chairman Darren Reisberg said the board would take a second look at those items before finalizing its request.
The previous state board helped overturn Illinois' old school funding scheme, which relied heavily on property taxes. They replaced it with a new formula based on what each district needs. Once the law passed, in 2017, the board felt compelled to ask for enough money to level the playing field for all schools, which was like asking for the moon.
Reisberg said the new board liked Pritzker's budget better.
"We feel that the budget that Gov. Pritzker put forth was very reasonable, given where we are as a state, and we feel that the budget that was put forth by the board that preceded us was not," he said.
He said the board will finalize its request later this month.
A study released by the Center for Tax and Budget Accountability last week showed at our current rate of funding, Illinois schools won't achieve equity until the year 2050.