Illinois Issues: Frackonomics
A pump jack sits atop an oil well drilled by Campbell Energy this fall behind the Super 8 hotel in Grayville.
Richard Sitler / The Southern Illinoisan
Tanks near an oil well on the edge of Grayville
Richard Sitler / The Southern Illinoisan
A few years ago, Illinois adopted regulations for high-volume horizontal fracking, but it was slow to get the permitting process up and running.
Those in southern Illinois who were hoping for an economic boom have since seen the promise of fracking go bust.
This story is the product of a collaboration with The Southern Illinoisan, where Molly Parker is an investigative reporter.
Old-fashioned bicycles dressed for the holidays with holly-trimmed baskets line North Street, the thoroughfare that cuts through Grayville's downtown. The quaint street's offerings include trinket shops, a hardware store, a Moose Lodge and a community theater.
A bevy of women dressed in purple suits and red hats chat as they exit their vehicles and file into the Grayville Senior Citizens Center for their Red Hat Society gathering.
Across the street, The Wabash Theater's marquee announces, "President Lincoln speaks Thursday at 6 p.m." It was advertising a re-enactment that took place at the nearly 70-year-old renovated community theater in the spring. But left unchanged months after the one-man show, the proclamation on the marquee fit the flavor of this sleepy little town seemingly frozen in time.
Around the corner at City Hall, Mayor Joe Bisch has been preparing for an economic revival, or at least an upturn. He's looking to the oil and gas industry to provide a boost in opportunities for the city, population 1,666, which sits west of the Wabash River on the border between Illinois and Indiana.
The town has slated a new industrial park on Route 1 near Interstate 64. It's located on the site of an abandoned state prison. Construction began there under the administration of then-Gov. George Ryan, but the state walked away from the project not long after then-Gov. Rod Blagojevich took office in 2003.
Bisch has jobs in his sights. He and other city leaders are hoping to do with the private sector what the state could not: provide new economic opportunities for Grayville and surrounding communities.
After Illinois adopted a law regulating horizontal hydraulic fracturing, Bisch and others in southern Illinois had hoped the oil and gas industry would play a big role in creating those new opportunities. But so far, the economic promise of fracking has yet to materialize.
No permits for hydraulic fracturing have been issued since the Illinois Department of Natural Resources (IDNR) announced it would begin taking applications in November 2014. "That was at the same time the oil prices started to crash," says Mike Mankowski, director of IDNR's Oil and Gas program. "As everybody knows, oil prices have been down ever since."
A new Road Ranger gas station has moved into the industrial park area, as has a company called Rain for Rent, which provides potable water storage solutions primarily for the oil industry. The Subway and M&S Tire store have relocated to that section of town. The hardware store is expected to in the coming weeks. Bisch says another fast food restaurant also is eyeing the location.
But the real grand slam would be a firm commitment from Pioneer Oil Co. to locate in the industrial park. Bisch says the company has indicated plans to put two associated businesses there that supply equipment used for extracting oil and gas by hydraulic fracturing. "We hoped they'd be starting on it this year, but I'm hearing through the grapevine they're going to wait until next year," Bisch says. Pioneer Oil did not return a call seeking comment as of press time about any future plans it may have for Grayville.
City leaders are bringing a new water well online, capable of pumping upwards of 2,000 gallons per minute, more than double the strength of existing city wells, to serve new industrial growth — including potential hydraulic fracturing operations that can suck water by the millions of gallons.
Bisch says he understands that oil and gas extraction is not without controversy in Illinois, particularly high-volume hydraulic horizontal fracturing. But he says the debate boils down to one's perspective, and his is one of great admiration for an industry that has been an economic engine in the region.
"You go by and smell a hog farm, and you don't like that smell. But to a hog farmer, that's money to him. It's the same thing with oil," says Bisch, who was wearing a T-shirt on this particular day that featured an American flag and read "God Bless Small Town USA."
Hydraulic fracturing, often referred to as fracking, is the process by which a mixture of water, chemicals and sand are pumped into the ground to fracture a source rock – typically gray or black shale but limestone and other rock formations, as well — allowing trapped oil and gas to escape.
The process has been used in the Illinois Basin since the 1950s, though almost exclusively vertically and in a process that uses substantially less water than is consumed in the horizontal fracturing process. With horizontal fracturing, high volumes of water are used to break rock structures that can stretch horizontally for miles.
Debate Leads To Deep Divisions
It's been three and a half years since then-Gov. Pat Quinn signed into law Illinois' first and only piece of comprehensive legislation specifically regulating horizontal high-volume hydraulic fracturing in Illinois. Though its passage was preceded by months of protests, lawmakers at the time heralded it as the strictest fracking law in the country.
It was another year and a half after the law's passage before the Joint Committee on Administrative Rules approved the regulatory permit process, and the IDNR announced it was ready to accept applications.
Many people throughout southern Illinois took sides in the debate. Some stood in strong support of an industry they were certain would bring new jobs and economic growth to a depressed swath of the state that has bled manufacturing and coal mining jobs. And others protested in vehement opposition to a drilling method they were convinced would contaminate the water supply, induce earthquakes and wreak havoc on the magnificent natural landscape that stretches across southern Illinois and includes the Shawnee National Forest.
The legislative process was contentious, and IDNR was flooded with thousands of comments during the rulemaking process. Groups opposing and supporting the law sued state policymakers. The former argued that the rulemaking process violated procedural requirements and should therefore be voided, and the latter claimed the long process and onerous rules stymied activity at a time ripe for exploration, resulting in an illegal taking of private property rights without just compensation.
The bitter discourse resulted in deep divisions throughout the region. And then nothing happened.

Oil Prices Fall Dramatically
As Illinois considered a new fracking law, oil extraction by horizontal fracking boomed in other parts of the country. That contributed to oil prices falling as more crude oil was produced than needed. In September 2014, oil prices began to fall from the roughly $100 a barrel prices that had held for about a decade. By January 2016, U.S. crude oil prices plummeted below $27 for the first time since 2003. Illinois Basin oil producers' prices generally lag about $7 behind national ones, meaning producers throughout southeastern Illinois were fetching less than $20 a barrel.
In late November, the Organization of the Petroleum Exporting Countries announced it had reached a deal to reduce its oil production by 1.2 million barrels per day in an effort to raise global prices.
Global prices increased for a few days after the November 30 announcement, with U.S. prices reaching just under $52 a barrel, and then fell slightly again in the face of skepticism that the OPEC cartel could effectively pull off enforcement of the deal. The OPEC cartel is responsible for a third of global oil production and comprises 13 major oil-exporting countries. New production through unconventional methods, primarily hydraulic fracturing, in the United States has weakened OPEC's grip on market prices and drastically changed the global oil game.
Mankowski from IDNR says that two companies – Kimmeridge Tri-State Exploration, LLC and Woolsey Operating Co., LLC – registered to apply for hydraulic fracturing permits, a step required before the actual application is filed. No company has taken that next step in asking for a permit. Mankowski says he assumes that there may be renewed interested in the permitting process if oil prices rebound. If an application is made by a company, the law provides 60 days for it to be processed, he says.
Despite that lack of high-volume horizontal fracking permits, some residents in Grayville say they believe it's happening in their town and contaminating their water. (To read more about this confusion over fracking, click here.)
Jakob Campbell, a co-owner of Campbell Energy LLC, based in Carmi, says he doesn't expect to see oil prices reach $100 a barrel again in the foreseeable future. He expects prices will hover in the $40-to-$60 range, barring any unpredictable market changes.
While consumers have welcomed the lower crude oil prices at the pump, the oil glut has dogged much of the domestic industry. The price drop beginning in 2014 brought new activity and development to a near screeching halt throughout much of the United States, including in southeastern Illinois.
Campbell Energy's activity has been reduced by 70 percent since 2014, he says. But that hasn't prevented the company from positioning itself for the return of the market. The company recently drilled a new well in Grayville. The pump jack, sitting on the far end of a farm field behind a hotel, comes into view on the drive into Grayville, but it's not producing oil at this time.
"With the prices being down, the prices of service costs have gone down dramatically," he says. "What we're looking to do is drill the wells while all the input costs are cheap and then wait to produce the wells until we see some rising oil prices."

When will it make sense to begin extracting oil again? Campbell says any estimate is speculation at this point. "Hopefully it will pretty soon, but they said that in the 1980s, and it took about 20 years to come back. So it might be a long process," he says.
Even then, Campbell says he doesn't think horizontal hydraulic fracturing will ever really take off in Illinois.
Odds Stacked Against Fracking
Campbell gave several reasons for his prediction, including the strict regulations on horizontal fracking in Illinois and the troubled financial state of some of the companies that had considered Illinois as a potential new market. Many of the leases secured by the oil companies from regional landowners, primarily between 2012 and 2014, have expired or soon will. "I don't think it's going to be a viable play based off their initial results as far as their vertical test wells and what's been done over in Indiana," Campbell says. "This is just personal opinion, but I don't think it's something that really ever was going to take off in the Illinois Basin."
He says he thinks those companies initially interested in fracking in the region have missed the window. "For them to come back in here and to make something happen with that, they'd have to come back in and start from scratch now and start releasing this ground, paying all that capital out again for leases."

A fourth generation oil producer, Campbell got his start in the industry in 2005. He was supportive of the potential for horizontal fracking in Illinois and also favored the addition of new regulations. Campbell says his family has roots in farming dating back to the 1840s, so he wouldn't favor anything he thought would harm the environment or the quality of farmland.
Campbell Energy is believed to be the only company to have ever horizontally fracked a well in Illinois with substantial water volume, though it was not considered a large frack by today's standards. It's not something the company plans to do in the future, Campbell says.
In 2012, the company submitted a well-completion report showing it used 640,000 gallons of water during horizontal fracking of a well in White County, as was reported then by The Associated Press. The new law is triggered by usage of 300,000 gallons or more of water in a horizontal fracture. Campbell says that so-called science well was for exploration purposes. It targeted a shallow reservoir, about 1,000 feet above the New Albany Shale, and it was not successful, he says. At the time, hydraulic fraction was permitted under the existing Illinois Oil and Gas Act.
"The technical aspects to do those wells is beyond our capabilities as a company," he says. "It's beyond most companies in the basin. You have to be a large company to absorb the cost of these wells, and it's just not something we, or really any local companies, have the resources to do."

Annette McMichael, a leader for Illinois People's Action, a grassroots social justice organization, has a similar prediction about fracking in Illinois. She says it doesn't appear to be a place that oil companies are likely to consider given the new recent discoveries in other states and the strength of the grassroots advocacy groups in Illinois opposing fracking.
During the height of the debate, McMichael also was a spokeswoman for SAFE, which stands for Southern Illinoisans Against Fracturing our Environment. McMichael says that her concerns about fracturing in Illinois have taken a back seat to what she sees as more pressing matters. At the forefront of her agenda at this time is supporting the Standing Rock Sioux tribe in its opposition to construction of the 1,172-mile Dakota Access Pipeline they say passes through sacred burial ground and threatens groundwater.
That pipeline is planned to end in the Illinois oil hub community of Patoka, located about 75 miles north of Carbondale and 85 miles east of St. Louis.
In November 2014, McMichael was among a group of people who sued Quinn, IDNR officials and others in an attempt to stop the state's new hydraulic fracturing rules from taking effect. The lawsuit filed in Madison County Circuit Court claimed the agency violated procedures during the rulemaking process, and that the rules therefore should not be enacted.
If any oil company were to consider applying for a fracking permit, McMichael says the opposition stands ready to respond with legal action and peaceful protests. "They would have a problem on their hands," she says.

Claims Of An Illegal Taking
The state was hit with other lawsuits during the rulemaking process by the pro-fracking crowd. Amy and James Pollard of Fairfield are among several plaintiff landowners who sued the state as the permitting process dragged on. Amy Pollard says the couple had sold leasing rights for oil production on several hundred acres they own in Wayne County. They were paid for the lease, and hoped to reap future rewards if oil was produced from their land. Their lawsuit blames the state for that lost opportunity.
Pollard called the opposition to fracking ridiculous. "They put new laws in place when fracking had been done since the 1940s," she says. "Then all of the sudden, fracking becomes a bad thing. I would go to different meetings, and they'd leave pamphlets and things on your car that were just ridiculous. … It just wasn't real. They were making things up."

Pollard says the leases they sold expire next summer. She doesn't know what the future holds for the potential of fracking on her property. "I think with the new election, there is hope there might be some activity again, but we'll have to wait and see what the prices do."
Pollard says she believes president-elect Donald Trump will soften over burdensome regulations on U.S. energy producers, providing new opportunities throughout southern Illinois. She says that's among the reasons she voted for Trump.
Rod Taylor of the Christopher & Taylor law firm in Indianapolis is part of the legal team representing Pollard and other landowners. He is representing Next Energy in a similar case. The suits allege overly onerous regulations and the moratorium on issuing permits prior to the finalization of those regulations amounted to an illegal "taking" of private property rights without due compensation, as dictated by the Fifth Amendment of the U.S. Constitution. The legal term for the allegation is inverse condemnation.

Last month, a Wayne County Circuit judge denied the state's motion to dismiss Next Energy's complaint, keeping the case alive. Class action status has been requested in the landowners' suit.
If a judge rules there has been a taking, Taylor says the defense has requested that the issue of compensation be decided by a jury.
"Certainly, it's clear the decline of oil prices has impacted drilling activity, but there was a time before that they could have," he says.
A lifelong resident of the Grayville area, Mayor Bisch says the opposition to hydraulic fracturing never made a whole lot of sense to him. He grew up around the oil industry and then went to work in it. He brushed off the differences between vertical fracking and the hydraulic horizontal fracturing as little more than nuanced details. He says he felt like most people in White County were for fracking, and says most of the opposition seemed to be centered around Carbondale.
Bisch says the distrust of the oil industry isn't the same in the Illinois Basin as it is in other parts of southern Illinois. Grayville's economy has been tied to oil and coal for decades. Oil drilling caused a boom in the 1940s that made it difficult to find housing, and Bisch says people were even renting out their garages at that time.
He says it allowed him to provide a nice life for his family. For years, Bisch ran Midwest Bit Co, which sells bits for drilling oil, gas and water wells. The license plate on his silver Ford F-150 reads "7 Bits."
When he retired several years back, his son, Greg Bisch, took over the business. Next door to the company, Lori Bisch recently opened a jewelry and home goods shop called Bits 'N Pieces of Home, the name a play on the oil rig drill bits business.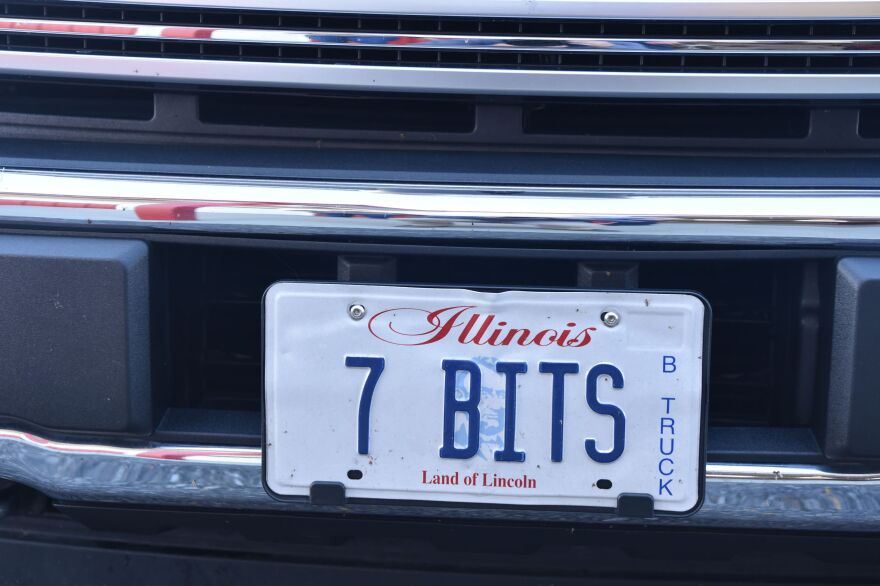 But as oil prices fell, Greg had to take up another job to supplement his income, selling vehicles at Expressway Dodge in Mount Vernon, Indiana. Many people whose livelihoods are tied to the oil and gas industry in Illinois have had to seek jobs across the state line, the mayor says.
Greg still does some business in Grayville, and hopes to return to the bits business full time. But, the mayor says, his daughter-in-law's shop is the only one of the two that has seen increased sales in recent months.
The mayor would like to see the fossil fuel industry bounce back. But he says the town is also trying to attract other sectors, including tech companies and renewable energy. "We're talking to anybody that will talk to us about it," Mayor Bisch says. "Hopefully they'll like our little town. We're a very close-knit town. We're not far from big city life — bigger city life. And it's just a nice community." He's hoping the future will bring good-paying jobs so young people in Grayville continue to call that community home.
Illinois Issues is in-depth reporting and analysis that takes you beyond the headlines to provide a deeper understanding of our state. Illinois Issues is produced by NPR Illinois in Springfield.