The Education Desk is our education blog focusing on key areas of news coverage important to the state and its improvement. Evidence of public policy performance and impact will be reported and analyzed. We encourage you to engage in commenting and discussing the coverage of education from pre-natal to Higher Ed.Dusty Rhodes curates this blog that will provide follow-up to full-length stories, links to other reports of interest, statistics, and conversations with you about the issues and stories.About - Additional Education Coverage00000179-2419-d250-a579-e41d385d0000
Foundations Help Fill School Funding Gaps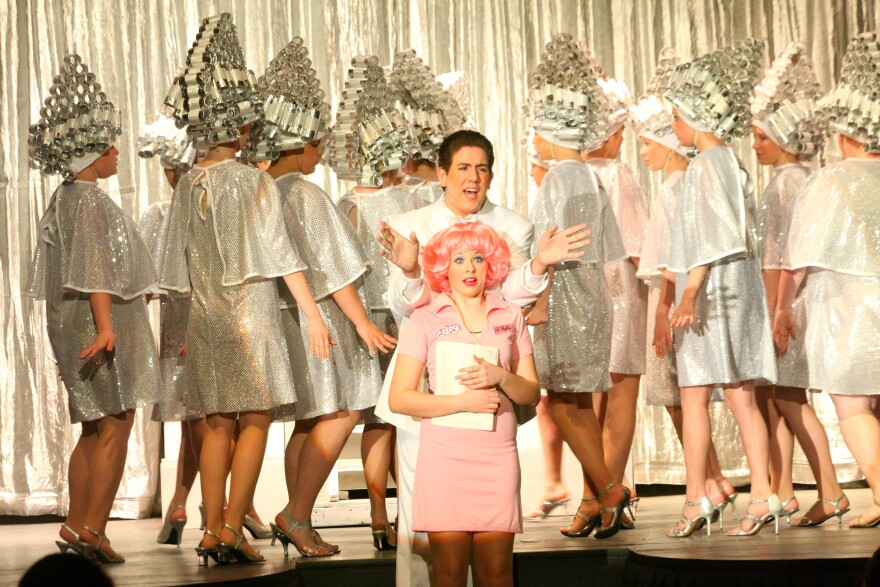 Rehearsing her students for the big spring musical, Kim Mandrell has crossed two huge worries off her list: She's decided not to have Mary Poppins fly - and this year, for the first time ever, she doesn't have to fret about the safety of the audience.
Mandrell is music director at Mt. Carmel High School in Wabash County, located in southeast Illinois. It's a small county, but Mandrell's spring musicals are so popular, they've sold out every show for the past five years. Yet it was tricky selling tickets for seats that kept disappearing. The school auditorium was built in 1963, and its 50-year-old wooden seats were breaking down.
"What would happen was: when we had one of the chairs fall apart, they would remove the seats from the back … and they would use the parts from the seats in the back," she says. "With cast iron, of course, it can't be welded to be fixed, so they had to take the parts and put them on the chairs in front, which meant then each time you did that, we lost a chair in the back."
They were down to 200 seats - supplemented by 160 folding chairs, which were dangerous on a sloped floor. Then Mandrell came up with a plan: "We looked to our alumni association foundation and said here's an idea. Is this something we can do?"
The foundation launched a campaign to replace the wooden seats. The new seats they chose had engraveable plates for sponsor names. They raised enough to buy 364 seats. These were installed last summer.
That marked the first time Mt. Carmel High had resorted to raising money through a foundation but the concept is catching on. Illinois -- more than any other state in the nation -- relies on property taxes to support public schools. With concerns over school funding, many districts turn to foundations to fill the gaps.
But what counts as a gap depends on what district you're in. There's another foundation raising money to replace seats, but instead of an auditorium, it's in the school's planetarium.
It's not that that unusual - the federal government funded scores of them in the 1970s -- but Evanston's will be state-of-the-art, according to Fran Caan, executive director of the Evanston Township High SchoolFoundation. The foundation raised more than $720,000 -- enough for Dolby surround-sound, LED cove lighting and of course, new seats. Cann says it will be "similar to an I-max theater. The projection system will really be incredible."
And the planetarium is just one of the foundation's projects. It has also provided lights and synthetic turf for the football stadium, campus-wide wireless connectivity, four new science labs, an automotive repair shop and a transitional home for students with special needs. The foundation also maintains an endowment of more than three million dollars. It was established about nine years ago, to meet an uncommon need:
"Dollars came to the high school and they were incorporated into a trust, for a number of years," Caan says, "and the money sat there without having direction in how to use it and how to invest it."
So Evanston Township High formed a foundation to handle these donations, and to provide donors with a tax write-off.
Springfield's District 186 formed the first public school foundation in Illinois -- and maybe in the nation -- almost 40 years ago. Then-superintendent Donald Miedema patterned it after the University of Michigan's development drive. Lisa Stone was the founding president of the organization.
"I think Dr. Miedema saw it as a way of putting $100,000 into the schools every year, particularly in libraries at that time," she says.
Terri Benson, the current foundation president, was a teacher when it started.
"Initially the concept was certainly to provide the extras," she says, "things that did not fit within the normal budgetary restraints that were given to the districts."
Besides library books, they awarded small grants to teachers, funded computer labs, and helped sponsor the annual All City Music Festival. But the decrease in state funding has shifted the foundation's focus.
"I think we're entering a phase now, in these last few years, where - partially because of the deficit in state spending and not necessarily fulfilling their per-pupil allocations - that not only are we trying to provide extras, but we actually are now providing some necessities."
More recently, they have funded Common Core curriculum guides, yearbook cameras, reading programs, and helped with travel fees for a scholastic bowl team and a musical group.
"We have provided shoes for teams, for kids that can't afford the shoes for their teams," Benson says. "We have provided warm-ups, uniforms, bags to carry their gear."
Unlike Springfield and Evanston, the Mt. Carmel High School foundation doesn't have any new projects on the horizon. Mandrell, the music teacher who inspired the campaign for auditorium seats, desperately needs to replace the 50-year-old lighting system hanging above her stage, but her current concern is paying for buses to take students to music competitions.
"With recent cuts it's just so frustrating. And it's hard not to get down about it. So I think I just have kind of, in my mind, pushed pause, and we'll just wait and see what happens."