Archive2001-Present: Scroll Down or Use Search1975-2001: Click Here
Illinois Issues: New Year, New Laws
More than 200 new laws will go into effect in Illinois on January 1.
Lawmakers were not able to come to terms with Gov. Bruce Rauner on a budget during the legislative session this year. But they did approve hundreds of pieces of legislation, which the governor signed. More than 200 laws will go into effect at the start of the new year — roughly the number that went into effect at the start of each of the past two years.
P.A. 99-0290 After four convictions for driving under the influence, drivers in Illinois permanently lose their licenses. But some who fall in that group could get the chance to drive again in 2016.
A new law that goes into effect in January will allow those with four DUI's on their record a chance to apply for a restricted license. To get one, applicants will have to prove they have been sober for three years. Those potentially eligible for the restricted license will not be able to apply until five years after their license was revoked or five years after getting out of prison, whichever is later.
Those who get a license will have to install a breathalyzer ignition lock in their cars, also known as a BAID device.
According to the secretary of state's office, more than 5,000 people in Illinois have lost their licenses after four DUI's. Northbrook Democratic Rep. Elaine Nekritz, who sponsored the new law, says many of those people have gone back to driving. "The BAID device would protect against repeat offenders. And I think for the most part, everybody would recognize that these individuals are driving anyway, so let's try to make them as legal as we can." Mother's Against Drunk Driving supports the change.
P.A. 99- 0352 The legislature approved sweeping reforms to law enforcement this year. Included in the legislation are rules for departments opting to using body cameras, increased fees on traffic violations to raise money for the use of body cameras and new officer training requirements.
The measure, which came after several high profile police shootings of black men across the country, was hailed as a landmark "For far too long, our criminal justice system has reinforced racial disparities and provided poor outcomes for taxpayers, ex-offenders, families and communities alike," Chicago Democratic Sen. KwameRaoul, who sponsored the legislation, said in a prepared statement. "We are finally seeing a bipartisan movement to examine and, when necessary, overhaul law enforcement, sentencing and corrections practices so they're fair and they work."
Some of the provisions of the law already went into effect, but some will begin in 2016. They include the rules for using body cameras, a requirement that there be an independent investigation when an officer is involved in a death and the creation of a database of officers who are fired for misconduct or resign during misconduct investigations. The database is intended to keep law enforcement entities from unknowingly hiring officers who got into trouble while working in other jurisdictions.
P.A. 99-0411 Starting in January, mental health providers will be barred from attempting to change the sexual orientation of patients under 18.
Chicago Democratic Rep. Kelly Cassidy, who sponsored the measure, says attempts at changing minors' sexual orientation can be traumatic for children and their families. "Fundamentally … you can't cure something that isn't an illness," she says. "What we're hearing about what these so-called therapists have done to children and adults is horrific — strip naked in a group and mock each others bodies, beat effigies of your mother with a tennis racket and blame her for you being gay —things that would be ridiculous, preposterous on a television show much less in real life. This is what people are doing to young people and families and charging money for it."
Engaging in conversion therapy will be considered "unprofessional conduct" and could leave mental health providers open to professional disciplinary action and civil lawsuits from patients and their families.
P.A. 99-0270 Patients with terminal illnesses, who have exhausted all other treatment options, will be allowed to try treatments not approved U.S. Food and Drug Administration.
The new law will allow drug manufactures to provide unapproved medications and treatments and allows insurance companies to cover them, but does not require either to do so. It also contains protections for doctors who help their patients access such treatments from being disciplined solely for their assistance.
"I just remember back in the early days of HIV, when we all knew that there were drugs being tested, and you saw people dying all around you. But they couldn't get access to the drugs because they did not live near a clinical trial, or they didn't fit the exact clinical trial profile," says Chicago Democratic Rep. Greg Harris, who sponsored the law. "I've had friends with breast cancer who have gone through the same thing —t hat just because they're the wrong age group or have the wrong medical history, they can't get access to these drugs. So it's something that has a lot of appeal for a lot of people."
P.A. 99-0033 For the first time in more than four decades, it will be legal to hunt bobcat in the state. A law that allows for hunting the cat goes into effect January 1. At one time, the bobcat was on the state's threatened species list, but it was removed in 1999. Under the new law, hunters with a permit to could kill one bobcat a year during a specific hunting season.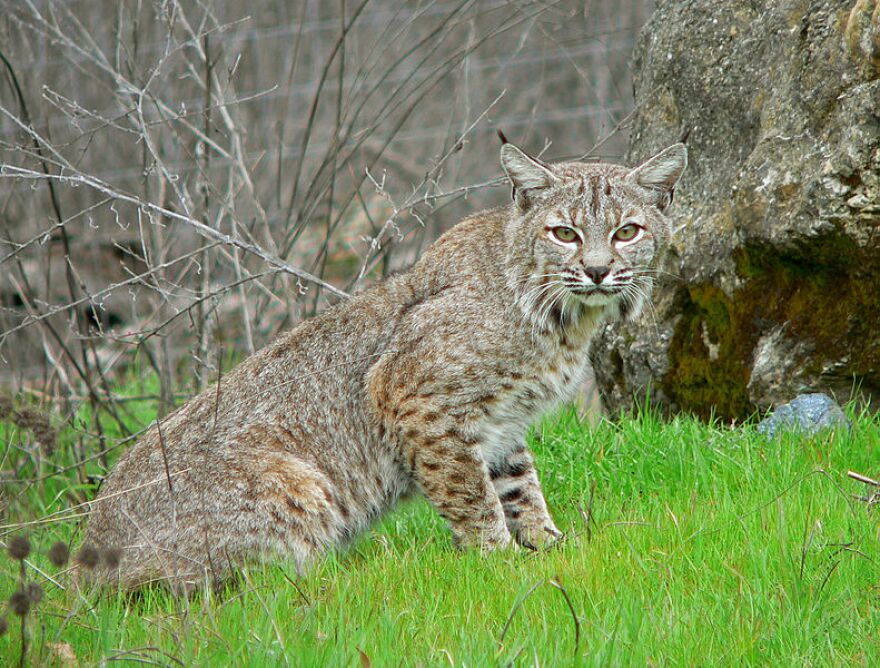 Environmental groups and the Humane Society of the United States argue that hunting the cats will land them back on the threatened species list. Supporters of the law say the predator's population has bounced back and needs to be controlled.
The General Assembly approved lifting the ban in 2014, but then-Gov. Pat Quinn vetoed the bill before he left office earlier this year.
P.A. 99-0050 After hearing about the death of Logan Stiner, Sen. Jennifer Bertino-Tarrant set out to ban the sale of powdered caffeine to minors in Illinois. Stiner died of cardiac arrhythmia and seizure after taking powdered caffeine last year. According to the Associated Press, Stiner got the caffeine from a classmate who ordered it through Amazon.com. The Ohio teenager had 23 times more caffeine in his system than a typical coffee drinker.
"We hear the word caffeine all the time. It's an everyday ingredient. We get our coffee daily," says Bertino-Tarrant, a Democrat from Shorewood. But she says that because caffeine is so commonplace people may not be aware of the danger of powdered caffeine, which is highly concentrated. "It's so hard to measure … that you could so easily overdose."
Starting in January, selling or giving powdered caffeine to minors in the state will be a misdemeanor on the first offense and a felony on subsequent offenses. Bertino-Tarrant says she realizes most people are buying the drug on the Internet, so enforcement could be difficult. But she hopes the ban will help increase awareness of the potential danger of powdered caffeine.
P.A. 99-0051 The sale of powdered alcohol will be banned in the state starting in 2016. Violation of the law will be a misdemeanor on the first offense and a felony on any subsequent offense. The ban on powdered alcohol comes as several other states have also outlawed the substance.
Human Trafficking Awareness
P.A. 99-0105 The Illinois Department of Human Services and the Illinois Department of Transportation will be required to promote awareness of the national human trafficking hotline. The promotion will include displaying signs at "high risk" areas such as airports, truck stops, rest stops and train stations.
The hotline is a service of the National Human Trafficking Resource Center. According to the center's website, the toll-free hotline is available at all times, anywhere in the country and in more than 200 languages. The hotline number is: 1-888-373-7888.
Carbon Monoxide Detectors In Schools
P.A. 99-0470 After students got sick from breathing in carbon monoxide in an Illinois school last year, all schools in the state will be required to have detectors for the gas in 2016.
About 150 students and staff members were hospitalized after a fault exhaust pipe caused them to breath in carbon monoxide at North Mac Intermediate School in Girard in 2014. At the time, the school did not have detectors.
Sen. Andy Manar, a Bunker Hill Democrat, sponsored the measure requiring carbon monoxide detectors. North Mac Intermediate School is in Manar's legislative district. "Where kids spend 7 to 8 hours a day should be equipped with the most strict safety requirements," he says.
P.A. 99-0364 When the clock strikes midnight on January 1, pumpkin pie will join the list of official state symbols, which includes a state flower, fossil and dance.
Some might question the need to add a state pie to that list, especially during a time when the state doesn't even have a budget. But supporters of the new law say its important not to forget about the positives, like the fact that about 90 percent of the processed pumpkin consumed in the country is grown in central Illinois near the village of Morton. The pumpkin is also processed in Morton by the Libby's company.
"Making pumpkin the official pie of the state of Illinois is certainly not one of the more important issues that faced the legislature this year," says Morton Republican Rep. Keith Sommer, who sponsored the legislation honoring the fall dessert. "But I think it's significant that we recognize the good things about the state of Illinois in light even of the challenges we face as a state."
Pumpkin pie joins other foods on the state symbols list, including popcorn, which was chosen as the official state snack in 2003.
Illinois Issues is in-depth reporting and analysis that takes you beyond the headlines to provide a deeper understanding of our state. Illinois Issues is produced by NPR Illinois in Springfield.