Archive2001-Present: Scroll Down or Use Search1975-2001: Click Here
Editor's Note: Few Places Have More Maps Than the Illinois State Library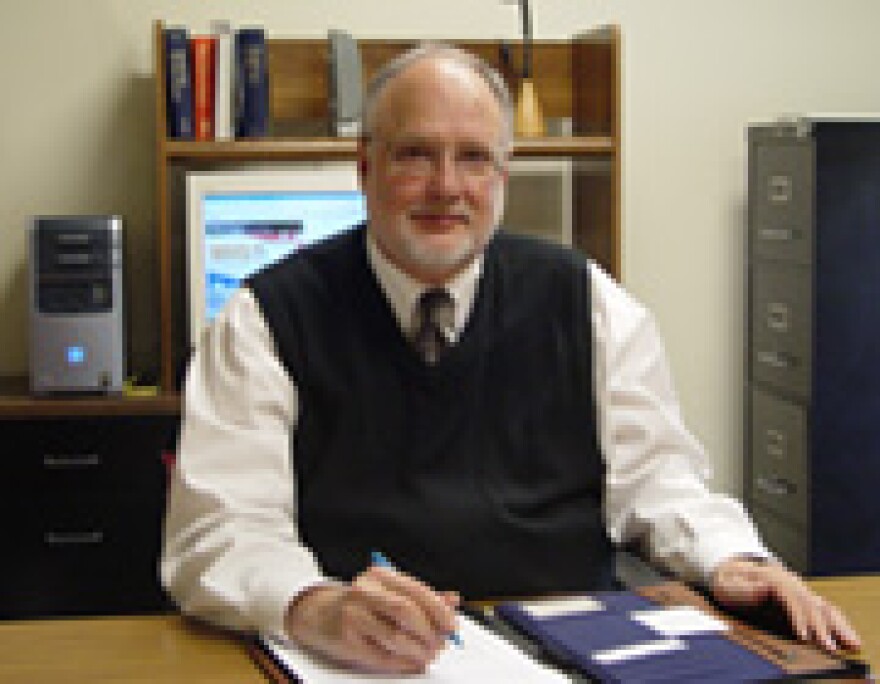 Lost? Can't seem to find your way?
I know I often can't. The genetic strand that governs my sense of direction must be frayed. It seems I'm always heading right when I should go left. I've turned more U's than Vanna White.
That's why I've always been fascinated by maps. They're often the only way I can navigate from place to place. I devour 'em like cheap novels.
And I recently learned that few places have more maps than the Illinois State Library.
It is a designated regional federal and state depository, meaning it receives all the maps published by the U.S. and Illinois governments. Maps showing roads, taxing districts, census tracts, wetlands, topographic features, soil surveys, rivers, coal mines, legislative boundaries, even historical Indian villages. And much, much more — 186,000 maps in all.
Arlyn Booth, whose title is map coordinator, has worked at the state library since 1972. She's the steward of the vast collection.
"A lot of it has to do with Arlyn," says library Director Anne Craig. "She has, in her long career, really beat the bushes."
Booth says she looks for "any which way I can add to the collection. I beg a lot."
Retaining maps is well within the library's mission, Booth says, which is to gather research material for state government. "Maps are just one more form of information."
But state agencies aren't the only patrons interested in the library's maps. They also attract archaeologists, engineers, construction firms and genealogists, among others.
And the collection isn't limited to this state. "We do have more than Illinois here, by all means," she says. "We have worldwide coverage."
One patron, Booth says, often comes in before he travels to business conferences, so he can find nearby hiking trails. But "a lot of our questions have to do with history rather than the current stuff," she says.
In all, the library adds about 6,000 maps a year to its collection. It allocates about $5,000 from its overall book acquisition budget for new maps "in good years," Booth says. She's quick to add, "That's not this year."
A current project involves scanning old secretary of state Illinois highway maps into a digital format. The first state highway map was issued in 1917, says map librarian Tom Huber, who works with Booth in the library's map section. There are a couple of gaps, but the library has every state highway map issued since 1921.
The collection's oldest original map is of the United States and was published in 1845. In it, Missouri is the farthest western state. The remainder is shown as "Indian Territory."
Although old maps can be very valuable, Booth says: "We're not necessarily after the original artifacts. We're just after the information." Copies — digital or otherwise — are fine. She adds that the library doesn't have the resources to appraise outside maps for value.
Booth joined the state facility soon after graduating from library school.
"I was working alongside all these other reference librarians who had subject specialties. One was a science specialty; one was a business specialist. I said, 'I feel like a class dummy around here,' to my boss at the time. … She said, 'Well, we're getting a lot of map questions, and nobody on staff seems to know very much about the maps we have. How would you like to be the map person?' So I said, 'OK, boss.'
"I don't have a geography degree, but I learned about the maps and the map library business."
After about eight years as map reference specialist, "I'd been finding all these maps that needed preservation … so I started cataloging them in our database and getting these preserved," she says.
A later stint as the library's head of reference didn't leave much time for map work, but Booth returned to the map section full time in 1984, when the library was designated as the combined federal and state depository for maps.
Aside from providing directions to or from somewhere, some of the maps, such as those dealing with the former German empire or places such as Hungary, can help genealogists follow trails of family migrations, Huber says.
"Anybody trying to take genealogy back to the Continent can come in."
In the near future, the library expects the National Parks Service to designate it as a rep­­ository for Route 66 maps and other information involving the storied highway.
"Arlyn's always collected Route 66 stuff," Huber says. "So when this came up, we kind of became a natural."
So add the Mother Road to the other road maps housed in the Illinois State Library. Those relating to genealogy to those relating to geology. From the mines down below to a huge collection of aerial photographs from above.
All of the maps are in a searchable database, along with the library's books and periodicals. All are available for public inspection, often for copying and sometimes for loan. The library also has the capability to translate paper maps into digital images.
Some of the library's information is available online. The phone number for the map room is (217) 782-5823, and the e-mail address is islmap@ilsos.net.
If you want to try to navigate your way there the old-fashioned way, the Illinois State Library is at Second and Monroe streets in Springfield, right across from the Capitol.
East … maybe. I'll have to check a map.
Dana Heupel can be reached at heupel.dana@uis.edu.
Illinois Issues, May 2008